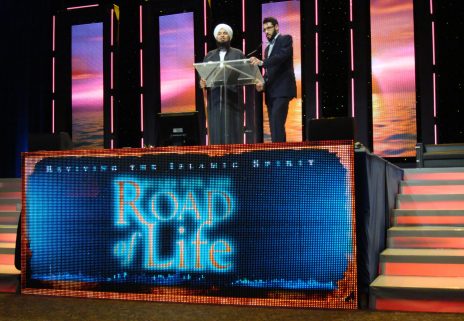 Al Habib Ali Trip to Canada, 2010
Accompanied by a delegation from Tabah Foundation ,Al Habib Ali Al Jifri, General Director of Tabah,  arrived in Canada where he delivered the penultimate lecture of the 9th annual 'Reviving the Islamic Spirit' convention in Toronto, Canada. He focused on the concept of the Ten Commandments from an Islamic scholarly perspective, and offered practical ways and solution in which the Commandments play a role in our lives today. He joined the rest of the speakers for the final closing session, after which he participated in a private gathering addressing the volunteers of the convention. Al Habib Ali, along with Shaykh Hamza Yusuf, Dr Umar Faruq Abd-Allah and Imam Zaid Shakir expressed their appreciation and hope for hundreds of young people from around Toronto who offered their time and efforts for the success of the convention.
At The Knowledge Retreat Program of the convention, Al Habib Ali offered his first lesson on "A Portrait of the Prophet, Upon him be peace" (al-Sham'ail), from the book "al-Shama'il al-Muhammadiya" by Imam al-Tirmidhi. The first lesson focused on why we are in need of studying such a science and the history behind it. The remaining five lessons were about explaining selected traditions from various chapters of the book. In the closing session of The Knowledge Retreat Program, Al Habib Ali orated his chain of transmission back to Imam al-Tirmidhi in narrating the text and offered a license (ijaza) to the participants to teach and convey the particular traditions and chapters they had studied with him.
On the sidelines of the program, Al Habib Ali met with Shaykh Hamza Yusuf, Dr Umar Faruq Abd-Allah and Dr Amr Khaled, and discussed together a number of other pertinent issues. He also met Chris Hedges, author of "Empires of Illusion," who gave him a brief on his background and some of the traumas he witnessed as a war reporter, and how this has led him towards his current work. Al Habib Ali explained that war is devastation and coupled with politics and political gains, as it is so often conducted now, it only serves to wreck lives.
On Thursday night Al Habib Ali was invited to Shaykh Talal al-Ahdab's house for dinner and proceeded to the Zawiya of Shaykh Ramzy Ajem for his weekly gathering, which was also attended by Dr Umar Faruq, Imam Zaid Shakir and Shaykh Faraz Rabbani.
Al Habib Ali departed from Canada on Saturday 1st January for Abu Dhabi.